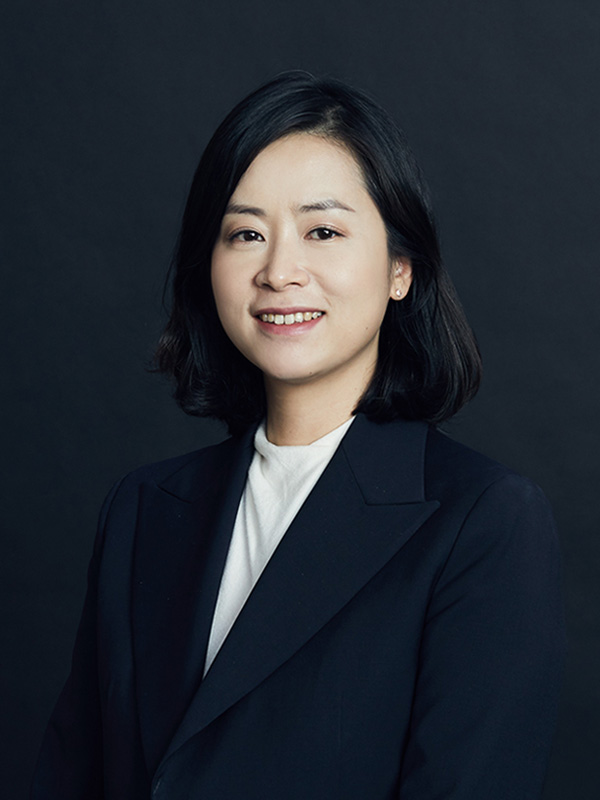 Korean Attorney
So Young LEE
Ms. So Young Lee is a partner in the IP & Technology Group, and mainly advises and represents clients in IP/ICT and R&D issues. While providing advice and representation to the leading entertainment, ICT, and media companies in Korea, she has covered legal issues related to the media, ICT and entertainment industry, such as copyright and IP right, personal information, and FinTech.

She is one of the few attorneys in Korea who has provided advice and representation on legal issues related to national R&D projects, such as sanctions including restriction on participation, royalty, fraud and misconduct in research, trade secret infringement, and joint cross-border research. She has also been involved in various projects and committees to reform laws, regulations and systems related to national R&D projects.

She is also actively engaged in alleviation and reformation of the regulations by participating in various committees and giving advice on matters such as reformation of the existing administrative regulations, enhancement of the legal system, and granting of regulatory exceptions especially in the areas of science and technology which does not have an established legal system yet, such as autonomous driving and artificial intelligence, as well as new industries such as the sharing economy. 
1998Yonsei University (LL.B.)
Experience Close
2014-PresentPartner, JIPYONG LLC
2023-PresentCivilian Member, Deliberative Committee of Special Cases on Industrial Convergence Regulation, Ministry of Trade, Industry and Energy
2021-PresentMember, Sanction Review Committee, the Ministry of Trade, Industry and Energy
2020-PresentAuditor, Next-Generation Smart Semiconductor Board
2019-PresentExpert Advisor, Local Policy Subcommittee, SME Policy Council, Ministry of SMEs and Startups
2019-PresentMember, Business and Human Rights Committee, Korea Evaluation Institute of Industrial Technology
2015-PresentAuditor, The Hope Institute
2015-PresentMember, R&D Project Assessment Committee for Ministry of Trade, Industry and Energy, and Ministry of Science, ICT and Future Planning
2021-2023Advisor, Gyeonggi-do Artificial Intelligence Policy Advisory Group
2020-2023Civilian Member, Committee on Artificial Intelligence Legislation, Ministry of Science and ICT
2020-2021Legal Counsel, K-New Deal Task Force, Ministry of Economy and Finance
2020Director, Korea Institute for Advancement of Technology
2019-2021Civilian Member, Regulation Reform Committee, Ministry of Science and ICT
2019-2021Consultant on Legal System for Regulation-Free Special Zone Designation Plan, Ministry of SMEs and Startups
2019-2021Civilian Member, Expert Committee on Regulation Exceptions, Ministry of Trade, Industry and Energy
2019-2021Civilian Member, Positive Administration Support Committee, Ministry of Science and ICT
2019-2021Member, Regulation-Free Special Zone Deliberation Committee, Ministry of SMEs and Startups
2018-2021Chairperson (11th and 12th), Defamation Dispute Mediation Division, Korea Communications Standards Commission
2018-2021Member, Korea Communications Standards Commission
2017-2022Legal Counsel, Ministry of Science and ICT
2014-2015Member, Legal System Subcommittee, Female R&D Resources Employment Forum
2011-2014Korea Evaluation Institute of Industrial Technology
2010-2011Lecturer, Graduate School of Mass-Communication of Chung-Ang University
2008-2017Instructor for Copyright, Korea Copyright Commission
2006-2008Advisor, The Hope Institute
2005Advisor, Digital Contents Distribution Council
2004-2011Partner, JIPYONG
2002-2004Associate, Wuhyun Law Firm Partner
2000-2002Judicial Research and Training Institute, Supreme Court of Korea
Honors and Recognitions Close
2019, 2021-2022Leading Lawyer in TMT Practice, Legal Times
2021Commendation from the Minister of Trade, Industry and Energy (for the contribution to Pohang earthquake aid work)
2020Commendation from the Minister of Science and ICT
2019Leading Lawyer in Intellectual Property Practice, Legal Times
Speaking Engagements and Publications Close
2020. 6.Blockchain and the Law: The Rule of Code (co-translated), Miraebook
2013. 6.Review of Regulation System for National R&D Projects, Legislation, Issue 660
2011Lecture on 'Copyright E-Learning for Game Industry Workers', Copyright Academy, Korea Copyright Commission
2007Specification of Scope of Victims in Defamation by Press Report, Rule of Media and Law, Parkyoungsa
Bar Admissions & Qualifications Close