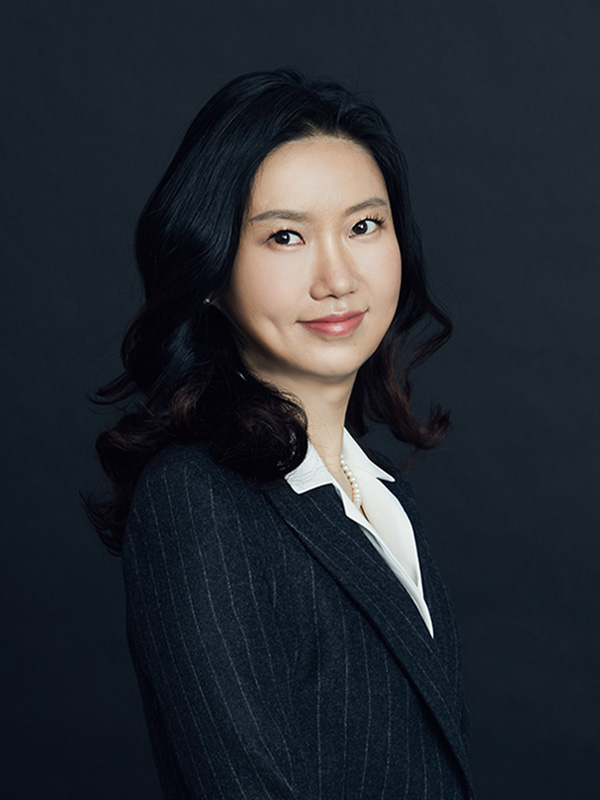 Korean Attorney
Yully KANG
Ms. Yully Kang is a Partner and the head of the Finance Group. She mainly advises on asset-backed securitizations and other structured financings, project financings and asset financings.

Ms. Kang started her career as a litigation lawyer in 1998, maintaining a near 100% winning record for 2 years in litigations involving securities, finance, and maritime and insurance matters, including before the Supreme Court of Korea. She subsequently transitioned to transactional work and has since demonstrated outstanding skills as a corporate and finance lawyer. She was named a "Leading Lawyer" by the IFLR in 2012, and from 2017 to the present.

Ms. Kang has advised numerous domestic and overseas financial institutions on asset-backed securitizations (ABS, ABL and ABCP) of real estate, securities and bonds using a wide range of structures. She has also represented major domestic and overseas banks, securities firms and asset managers on legal issues relating to diverse securities, financial and derivative products, and domestic and overseas real investment businesses. She is a renowned expert in acquisition financing, project financing and syndicated loans for real estate development projects in and outside Korea, offshore lending by financial institutions and ship financing. She also has extensive experience in the establishment and operation of REITs and real estate funds.

Ms. Kang holds a B.A. in Politics from Seoul National University and an LL.M. from Harvard Law School.

She is a member of the Korean Bar.
2002-2003 Harvard Law School (LL.M.)
2002 Kyung Hee University (LL.M.)
1994 Seoul National University (B.A. in Politics)
Experience Close
2004-Present Partner, JIPYONG LLC
2022-Present Member, Investment Guarantee Deliberation Committee, Korea Ocean Business Corporation
2021-Present Outside Director, Kakao pay
2021-Present Outside Director, SK IET
2020-Present Member, National Pension Fund Alternative Investment Committee
2020-Present Advisor, Financial Supervision Advisory Committee, Financial Supervisory Service
2019-Present Legal Advisor, Ministry of Justice for Korean Small-and-Medium Enterprises in the Overseas
2021-2022 Member, Sanction Review Committee, Financial Supervisory Service (FSS)
2020-2022 Member, Smart City Committee
2017-2018 Finance Director, International Association of Korean Lawyers
2014-2016 Lecturer, Cyber Course at Korea Institute of Financial Investment under the Korea Financial Investment Association
2008 Completed financial law (IB) course at Center for Financial Law, Seoul National University
2007-2012 Legal advisor, Korea Financial Investment Association
1998-2004 Associate, Shin & Kim
1998 Judicial Research and Training Institute, Supreme Court of Korea
Notable Achievements Close
Advised Standard Charters Bank and Korea Development Bank on project financing for Shinsegae's development of Starfield Hanam
Advised Hana Asset Management and Korea Investment & Securities on purchase of Amazon Fulfillment Centers in Poznań and Wrocław, Poland
Advised NH Investment & Securities on an ABL backed by accounts receivable of Qingdao Lidong Chemical Co., Ltd.
Advised Shinhan Bank on acquisition financing for M&As of Central City, Monalisa and Daewoo Securities
Advised Pinestreet Asset Management on SK Networks' transfer of LPG stations and subsequent asset securitization
Honors and Recognitions Close
2018, 2021-2022Korea's Top 100 Lawyers, Asia Business Law Journal
2017, 2019-2022Leading Lawyer in Securities and Finance Practice, Legal Times
2012, 2017-2022Leading Lawyer, IFLR
2021Lawyer of the Year in Finance Practice, Legal Times
Speaking Engagements and Publications Close
2022Financing and Real Estate Transactions in Korea: Legal Issues and Market Practice (Co-author), Pakyoungsa
2017Practical Law – Finance Cross-border Transaction Guide : South Korea, Thomson Reuters
2006. 5. Legal Issues in Asset Securitization through Trust, Business, Finance & Law, Issue 17, Center for Financial Law, Seoul National University
2002 Legal Study on Securitization of Credit Card Receivables through Trust Method (Master's thesis), Graduate School of International Legal Affairs, Kyung Hee University
Bar Admissions & Qualifications Close
Korean / English / Japanese