ESG Center
[News Update] Jipyong Launches its "ESG Center"
2020-10-13
With the turn of a new decade, we have now entered the ESG Era. ESG, which refers to Environmental, Social, and Governance factors, has now emerged as a most important theme for governments, investors, and stakeholders around the world including Korea. Despite its non-financial nature, ESG has become a critical business issue and a critical component for improving brand values. The recent growth of ESG has primarily been driven by the new trends requiring businesses to pursue social and environmental values beyond generating profits.

In order to meet such unprecedented demands for systematic ESG services, Jipyong has recently launched an ESG Center by integrating its Human Rights Management Team, Environment Team, and Compliance Team.

The Jipyong Human Rights Management Team, which was launched in 2019, is providing consulting, stakeholder communication and due diligence services with focuses on Corporate Social Responsibility(CSR), Creating Shared Value(CSV), and Social Value(SV). In 2020, the Environment Team and Compliance Team have also been expanded with the addition of a number of new experts. The Jipyong Environment Team's services include advice on the increasingly tightening domestic and international environmental policies and regulations, advice on Green New Deal projects, and environmental due diligence. The Jipyong Compliance Team, which is comprised of the nation's top compliance experts, provides compliance consulting and due diligence services.

The Jipyong ESG Center is led by Managing Partner Ji Hyung KIM, a former Supreme Court justice and the current (non-standing) head of Samsung's Corporate Compliance Monitoring Committee as a consultant of the Center, and Managing Partner Sung Taek LIM, one of the top experts in the areas of balance between business and social values, ESG, and human rights management, as the head of the Center. The Jipyong ESG Center also has three co-executive directors: Young Kyu YUN, former counsel of the Financial Supervisory Service (FSS), Senior Advisor Joon Gil LEE, former government official at the Korea Fair Trade Commission, and Young Soo KIM, who has plenty of experience handling a variety of human rights cases in Gong-Gam (a Korean Public Interest Lawyers Group) before joining Jipyong where he is currently serving as a partner, which is the first case in Korea.

Hye Jung RYU, who is advising the Ministry of Industry, Trade and Energy, Korea Power Exchange, etc. on the environment and energy law issues, Hee Jung SHIM, a former (executive level) in-house counsel of a global bank's Seoul office and top expert in the financial regulation and corporate governance areas, and Chang Wook MIN who recently earned a masters degree in Public Affairs from UC Berkeley Goldman School of Public Policy with a focus on social policy and Business and Human Rights (BHR), and Yung Eun JANG, who provided listing and disclosure services in an accounting firm and Korea Exchange for about 15 years are also the key members of the ESG Center.

The Jipyong ESG Center's main services include △ strategic ESG consulting and advice, △ ESG-related risk management, △ ESG due diligence or impact assessment, △ advice on ESG laws and regulations of U and US, △ dispute resolution, △ advice on ESG reporting and disclosure, △ advice on sustainable finance including ESG bonds, funds, loans, etc.

The superb advice and consultation of the Jipyong ESG Center will help clients minimize ESG-related risks, fulfill social responsibility, and achieve global standards for sustainable development.


[Structure of ESG Center]

[Key Practice Areas]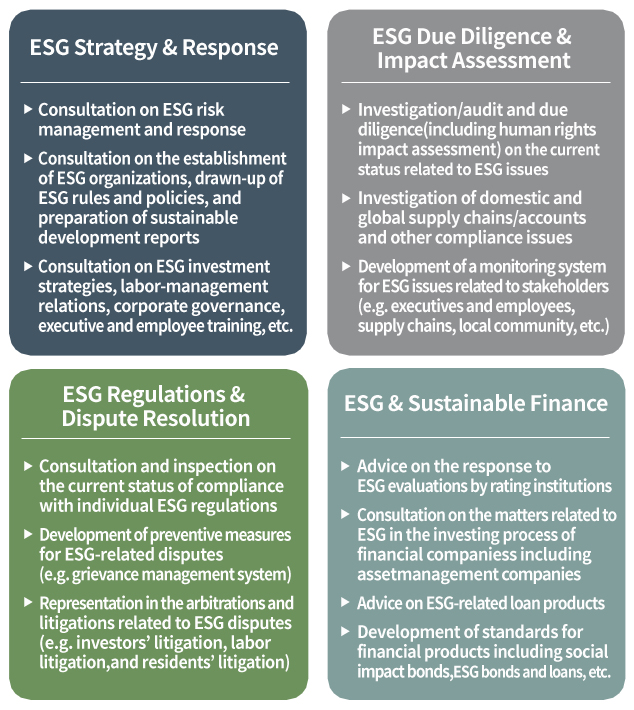 [Experiences]

Environmental
| | |
| --- | --- |
| - | Advised on Clean Development Mechanism Projects of local governments including landfill projects of Cities D and M and a sewage treatment plant project of City S |
| - | Advised Energy Company H, and Exchange K, a quasi-government entity on CERs, etc. |
| - | Advised on the legislations related to climate actions and enactment of environmental ordinances of local governments including City S |
| - | Advised several local governments including Cities J, K, Y, and N on the alternative energy development projects including establishment of solar photovoltaic power stations |
| - | Represented Manufacturing Companies K, H, and S and a number of government departments in the administrative lawsuits related to air pollution, CERs, etc. |

Social
| | |
| --- | --- |
| - | Conducted human rights impact on the operation and major projects, and reviewed internal rules related to human right management for Public Companies S and H |
| - | Conducted human rights impact on the entire administrative guidelines, manuals, etc. for City S |
| - | Advised S Group on the development of strategies for communication with stakeholders |
| - | Advised Cement Company H on the establishment of a fair trade compliance program |
| - | Advised Steel Company H, Semiconductor Company S, Construction Materials Company K and Heavy Industrial Company H on the internal inspections in the areas of internal trade, subcontracting, unfair trade practices and illegal dispatch as well as development of action plans |
| - | Represented a number of major domestic companies and administrative agencies in civil and administrative lawsuits related to labor, fair trade, and education issues |

Governance
| | |
| --- | --- |
| - | Advised a number of companies including Insurance Company M and Media Company K on the development of hostile merger and acquisition plans (including strategies for acquisition and defense) and management stabilization plans |
| - | Advised a number of private equities on the collection of investments and disputes over control of target companies, etc. |
| - | Advised Company H, Company K, etc. on the legal risks involving corporate governance during the process of conversion into holding companies, merger and acquisition, and listing eligibility review |
| - | Advised domestic and multi-national companies on the strategies for improving corporate governance (e.g., internal regulations on the composition of general meetings of shareholders, board of directors and audit committee as well as the articles of incorporation to secure management integrity |
| - | Advised and represented a number of listed companies including Steel Company H in the legal actions involving disputes over control of the company such as provisional disposition to suspend exercise of the directors' duties, provisional disposition for inspection and copying of the register of shareholders, and request for inspection of account books |
| - | Advised and represented a number of listed and unlisted companies including Company P in the legal actions involving disputes over control of the company such as request for verification of invalidity or non-existence of, or nullification of shareholders' resolution, provisional disposition to prevent convening of extraordinary general meetings of shareholders and general meetings of shareholders, request for nullification of issuance of new shares, and provisional disposition to prevent issuance of new shares |

Sustainable Finance
| | |
| --- | --- |
| - | Advised Financial Holding Company W on the drawn-up of a group's operational regulations for protecting financial consumers and other related matters |
| - | Advised Asset Management Company H on the first carbon fund project in Korea |
| - | Advised H Bank on the refinancing of an existing private equity loan for solar power generation, and advised Asset Management Company K on a project finance for the construction of a solar photovoltaic power station |
| - | Advised Electric Power Company H, etc. on the acquisition of three photovoltaic power stations owned by Canadian Solar Power Company R |
| - | Advised Construction & Trade Company S on a hydroelectric power generation project in Vietnam |
| | | |
| --- | --- | --- |
| | Jipyong's Newsletters are intended to provide our clients with real-time updates on general legal issues, and do not represent legal advice or opinion of the firm. Please consult our attorneys for any question or information regarding the contents. | |
Please click subscribe if you wish to receive our Newsletters.
Subscribe
26F, Grand Central A, 14 Sejong-daero, Jung-gu, Seoul 04527, Korea
TEL +82-2-6200-1600 FAX +82-2-6200-0800
© JIPYONG LLC. ALL RIGHTS RESERVED.